The aims of Copywriting
To a large extent, the success and effectiveness of any website can depend on its written content making the right impression on web browsers or visitors. The content needs to inspire and motivate the reader to get in touch with you. A good web designer/copywriter can take this burden off your shoulders. Using the right words doesn't always come easy – many people are much more skilled in more practical matters.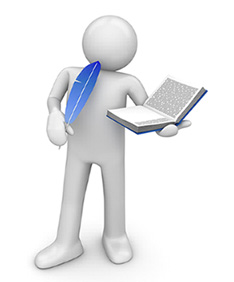 The best approach
Research your business or product on the web so that you and your web designer/copywriter truly understand your position in the marketplace before you begin to write any copy. Aim to make your content interesting or even entertaining and make sure that you convey your company's enthusiasm and in particular its uniqueness and how it stands out from the competition.
Search engine friendly content
Where necessary you will need to optimise all the content for Google and the other main search engines in line with the best practices of the web. The copy written will help you rank better. Search engines need interesting content and it is important to use the correct keywords – without overusing them or making the content sound forced or unnatural. Well-written copy will also have a very positive effect in that it will keep readers in your site for longer and this will also help with search engines such as Google who track statistics.
Multilingual Content
If you or your company deal in or sell your products to international markets then you will need content in other languages so that your website can appeal to various markets around the world. For this you need someone proficient in writing copy in several languages. Sometimes they will use affiliates as this helps to provide written content in almost any language.